Read the main tips about Naples and send us yours!
Tips about City Attractions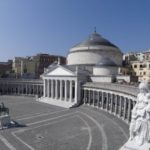 Play at Piazza Plebiscito: walk from the back of the Royal Palace and try to reach the opposite end without looking. In theory, you should be able to walk along a straight path to the Basilica in front of you.
If you love sculpture, don't miss the Veiled Christ in the San Severo Chapel. There, you'll also find mysterious anatomical machines.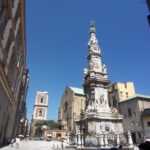 If you don't have a lot of time in Naples, go to Spaccanapoli, the main road of the historic centre!
If you love Christmas, don't miss the chance to visit the sheperds artisans at work going in San Gregorio Armeno road during every day of the year.
Not everything is on the surface of the city: you can visit and walk though Naples Surroundings to see the roman city!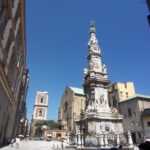 If it's too warm for you, go to Capodimonte wood. There, you will find an amazing museum too and you will see the city from above!
Would you like to go to the seafront? You have to look for via Caracciolo
Would you like to take a traditional transport? Take the funicolare to go around the main areas of the city!
Naples Metro makes you feel lost? Take a look to our Naples Metro guide. You will find every information about the artworks too!
If you are fascinated by trains, go to the National Railway Museum of Pietrarsa, in Portici.
If you want to visit Sorrento or Amalfi Coast, you can choose to go there by bus or by train (from the main station) or by ferry!
Traffic in Naples is a nightmare: if you want to go faster to your destination, take the metro or the funicular!
Tips about Neapolitan Food
Campania wines are excellent. Among the most famous are the red wines Aglianico and Taurasi; among the white wines Fiano di Avellino.
In Naples you can find typical chocolate too. Among the most famous are the "Foresta" kind of Gay-Odin and the Perzechella in Santa Chiara.
One of the most traditional recipes of Neapolitan cuisine is pasta with potatoes. Don't miss the chance to taste it when you are in Naples!
Street food in Naples is a must: while walking, try a "cuoppo", a little small cone full of seafruits and/or fried vegetables.
If you like desserts, you must try "sfogliatella". It comes in two versions: a crunchy one (riccia) and the softer one (frolla). Which one will you like the most?
If you are hungry in Naples and you would like to taste something traditional, don't forget that pizza is not the only one cooked in the oven. Fried pizza is really tasteful too!
Pizza is not just the classic one anymore. Try the gourmet versions that the most famous pizzerias offer!