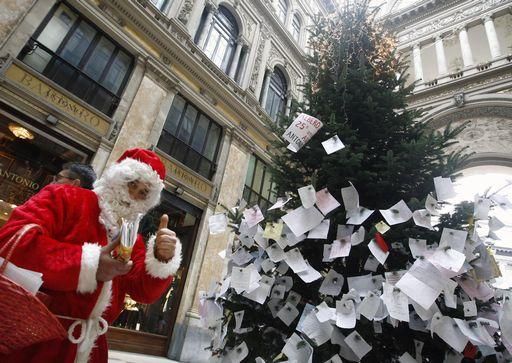 If you imagine Christmas in Naples, forget snow-flakes coming down gently in the stillness of the night! But in return you'll be reworded with the most joyful, exciting and unforgettable Christmas.
During the period of the "the most wonderful time of the year" Naples has a magical atmosphere also derived from the many artistic and culinary traditions. Christmas celebrations begin on December 8 when Christmas trees and Holy Cribs are prepared and end on January 6, the Epiphany. The setting up of the crib is strongly felt by Neapolitan families, as aggregative and creative and must be finished by December 24 at midnight when the Child is placed in the cradle. The presepi are made of cork, tree bark and musk and every year a new figurine must be added so Neapolitans take a walk to the tiny shops in the renowned San Gregorio Armeno street. As a matter of fact it's not easy walking along this street since it gets so crowded of tourists and customers in this period that pedestrian access is strictly one way. Furthermore there is such a variety of figurines showing people involved in daily activities that sometimes it's difficult to remember the ones already present in your crib. The tradition of the crib goes back to 1025 with the first presepi just showing Our Lady and St. Joseph, the manger with the child, the ox and the donkey. But in the '600 there was the introduction of scenes of everyday life reaching its peak in the '700, the golden period of the Neapolitan crib. But the artisans in San Gregorio Armeno also create tiny statues representing famous Italian and foreign politicians, actors or football players.
Xmas in Naples, cuisine traditions
Christmas in Naples is important for its culinary traditions too. On Christmas Eve and on Christmas Day families get together and enjoy important dinners. The Eve dinner is characterized by spaghetti with clams and by fried cod, while Christmas dinner by meat and vegetables, including minestra maritata and chicken broth. Both menus are followed by typical Christmas sweets, prepared at home following ancient recipes handed down for generations, as struffoli, rococò, mostaccioli, pastiera. At midnight on Christmas Eve people go to Mass while on Christmas day, after exchanging gifts families play tombola, a game similar to bingo in which each number has a different meaning according to the Neapolitan "Smorfia" (a book used to analyze symbols of dreams). Another Christmas tradition is that of the zampognari, bagpipe players dressed with sheepskin vests and dark cloaks, strolling along the streets to collect money. Celebrations end at the Epiphany when children believe an old lady brings them presents if they have behaved well during the year.