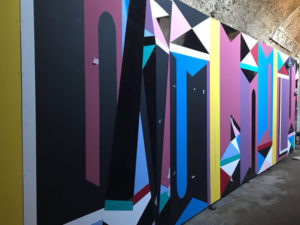 The influence of ancient Pompeii on the contemporary in the installations of the German artist Catrin Huber at the House of the Cryptoporticus.
Expanded Interiors is the name of the interdisciplinary project of the visual artist Catrin Huber who explores the parietal painting and artefacts from the Roman era found in the Unesco Pompei and Ercolano sites, reinterpreting them in a contemporary key.
The exhibition in program, from 14 July 2018 to 15 January 2019, at the house of the Criptoportico develops in one of the underground corridors of the Domus, with two original installations that dialogue with the Roman wall frescoes.
The first installation juxtaposes the painted colonnade by Catrin Huber to the pictorial cycle of the underground corridor of the Criptoportico, where the decorated surface is a kaleidoscope of rhythmic colors, which recreates real and illusionistic architecture. Through the incorporation of replicas of Roman objects of daily use, such as oil lamps and toilet bowls, Huber connects the Roman world to the contemporary, in a new form of design.
The second installation dialogues with the Domus thermal complex, with its frescoes with composite architectural drawings, full of illusionistic references. Contemporary painting, in return, responds with a complex game of 2D and 3D space, open and closed walls, interior and exterior space and perspective movements.