Amalfi is the place that gives its name to the whole coast which you can visit lots of villages characterized by the most beautiful landscape and crystal-clear beaches. For about 20 years it has been declared with all the Amalfi Coast heritage of humanity by UNESCO.
The advantage of its geographical position has meant that it was one of the most coveted settlements since Roman times – as you can understand by seeing the emblem of the city that still is accompanied with a Roman motto. Another important piece of Amalfi history is represented by the Amalfi Tables, a maritime code written in Amalfi and which was then used by the entire Mediterranean area until the 16th century.
This village is probably the easiest to reach for those wishing to visit Amalfi and the Amalfi coast. In fact, you can go by bus or taking a ferry or hydrofoil from Naples and from Salerno or you can go there by renting a car. An alternative is visit the Amalfi coast through one of the professional drivers that you can hire via BookingNaples – so you can be sure to travel with comfort and safety.
Amalfi architectures, what you can't miss
Among the places to visit religious architectures totally stand out. The cathedral of the city, dedicated to St. Andrew, is famous for its Arab-Sicilian style and for being flanked and sometimes superimposed on other churches of different eras.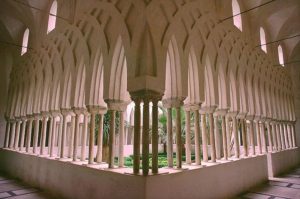 Another important church is the one dedicated to St. Anthony. The Church is in Baroque style and boasts eighteenth-century paintings. In addition to the wooden choir, the particularity of this church is in the cloister, which can be visited only on the afternoon of the day when St. Anthony is celebrated, on June 13th. This village is full of churches to visit, each with a very strong historical importance.
Other architectures to see that have religious significance are the Fountain of St. Andrew, with marble sculptures of the saint and others that represent marine deities, and the fountain of Cap 'e Ciuccio, decorated with a nativity scene.
If you are looking for spots from which to enjoy striking views of the coast, you can visit the towers near the village: Ziro Tower, Pogerola Tower, Tabor Tower and Tower of the Moon.