In this article we propose a guide to the Campania beaches to visit during your holiday in one of the most beautiful Italian regions rich in natural beauty. Among the islands such as Capri, Procida and Ischia, the Amalfi coast and the Cilento coast, it is difficult to orientate and understand which ones to choose.
Collata beach
The beach of Collata is one of the Campania beaches belonging to the Amalfi coast. It is ideal for those who prefer places that are away from the crowd, where it is possible to enjoy the quiet. The beach is only 50 meters away from the historic centre and is not far from the port of Cetara. Despite being easily accessible, it is isolated as it can be reached only by sea. Another point of strength is that the sun goes away in the late afternoon.
Cala Banca (i.e. White Cala)
The Cala Bianca is one of the Campania beaches of the Cilento coast. A few years ago, it was elected the most beautiful beach in Italy. Like the Collata beach, the white Cala can only be reached by sea, leaving from the port of Marina di Camerota. An alternative is to go there on foot from Monte Luna but the walk takes about an hour. The beach is wild, surrounded by plants and characterized by very clear water.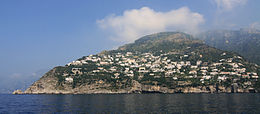 Spiaggia del Cavallo Morto (i.e. Dead Horse Beach)
Also known as Cala Bellavia, it is one of the Campania beaches that best embodies the characteristics of the beaches of the Amalfi coast. In fact, it is characterized by crystalline water and is located between the cliffs, giving the strong and loved contrast between water and rock typical of the area. This beach is also famous for its quiet and silence.
Nerano beach
Among the most beloved Campania beaches there are those of Nerano. Nerano is a small territory of Sant'Agata sui due Golfi. What makes the beaches of Nerano unique are the crystal-clear waters and the sunset time of the sun, later than other places. Nearby, there are numerous restaurants where you can taste local cuisine.