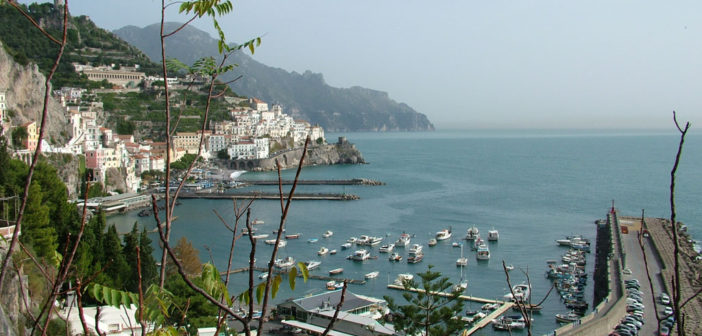 Amalfi
ita
With its beautiful views and the marvellous cliffs Amalfi has been declared a Unesco World Heritage Site. The town is built on terraces overlooking the sea, with white houses on the rocks, towers and ancient narrow streets. It is a place where tranquility reigns supreme and the sea sparkles in a special way.
Founded by the Romans in the fourth century A.D. Amalfi was the first of the four Italian Maritime Republics and reached the height of its power in the tenth and eleventh centuries thanks to its powerful and agile merchant fleet. The ships of the Republic of Amalfi in fact travelled along the entire Mediterranean establishing commercial relations with the East. They  exchanged goods and imported silk, spices, perfumes, carpets and precious ivory. The Amalfi people became also excellent artisans for the production of paper. An old medieval mill of the XIII century now houses a museum where you can see all the techniques of the famous Amalfi paper. To this city we owe the first code of maritime law, the Tabula Amalphitana, now preserved in the Museo Civico. This maritime code was written around the 11th century to regulate maritime traffic. It is a precious document that contains the laws and the seafaring customs of the glorious maritime republic of Amalfi. These regulations for many centuries made up the universal trading code for the entire Mediterranean.
The main monument and symbol of the city is the Cathedral of St. Andrew, which dominates the main square. It was built in the ninth century, but over the years it has undergone several reconstructions. In fact, the original romanesque structure, is now covered with sumptuous baroque decorations. The church has a Latin cross plan with three naves and it is rich in frescoes, statues and paintings. Noteworthy is the central door with beautiful bronze doors, cast in Constantinople in sec. XI with religious figures in relief. The crypt houses the miraculous relics of St. Andrew, from which a dew, the manna, has exuded since 1304. The square bell tower is embellished with mullioned windows dating from the twelfth century. On the left side of the cathedral opens the cloister of Paradise, built in Arab style at the end of the thirteenth century, as a cemetery for illustrious citizens. Inside the building, surrounded by a lovely porch Arab-Gothic style, there are numerous archaeological finds dating back to the Roman period and the Middle Ages.
Its history, its monuments, its breathtaking scenery and its immense beauty are enclosed in the famous phrase of Osbert Sitwell: "Who has not seen Amalfi – does not know Italy".