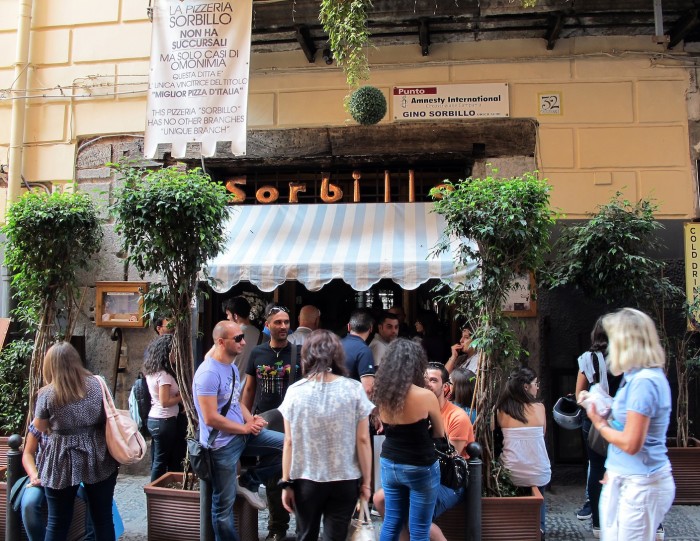 Where to eat Naples?
Where to eat in Naples?
Cooking in Naples is an art!
The origin of the Neapolitan cuisine is very ancient, since the Greek-Roman period and it was influenced by the different cultures of the various dominations. Even if it is considered the capital of the pizza in the world, Naples offers many more yummy and attractive recipes to the hungry travelers that will live an exciting experience. In addition to the high quality of the ingredients and the cooking, what makes great the cuisine here is the imagination and the creativity of the Neapolitans, that give a major plus to their plates. Naples is the land of the pasta, cooked with the typical sauces, as "ragù" with tomatoes and meat, "Genovese" with onions and meat, or with the seafood, as "spaghetti alle vongole", of the fish and the renowned sweets.
So in Naples you will find a lot of wonderful restaurants where to eat with a wide choice of dishes and budgets. But if you have the chance to be invited in a Neapolitan home you may have even a higher quality than the restaurants and enjoy the Neapolitan friendliness and hospitality.
The classic pizzas are margherita, with tomatoes, garlic, olive oil, basil, mozzarella and marinara with only tomatoes, garlic, oregano and olive oil.
Where to eat Naples?
Here it is a list of restaurants, trattorias and pizzerias in Naples:

NENNELLA
If you want to live the real Neapolitan essence, you may visit Nennella inn, near the central Toledo street. Here you will get in touch with a friendly and joyful atmosphere and taste traditional and delicious Neapolitan food. Remarkable is the pasta e patate with provola cheese as a main course, even if all their typical dishes are very savoury. The place is very cheap and popular with nice waiters very quick to serve and to thank you when you leave your tip in a basket near the entrance.
Where: Vico Lungo Teatro Nuovo, 105 Phone: +39 081414338
Opening hours: It is open at lunch and at dinner from Monday to Saturday.
STARITA
Starita pizzeria, considered one of the best pizzerias in Naples, since 1901 has been serving a delicious pizza in its historic restaurant, in one of the most popular areas of Naples, Materdei, easily reachable by line 1 underground. Here kind and smiling people will help you to choose among a large variety of tasty pizzas, as pizza with pumpkin flowers, or with nuts. The fried food is very dainty, as the "angioletti", fried pizza dough with tomatoes as appetizers or with the hazel chocolate cream as dessert, or the montanara pizza. It is surely a must-stop on your culinary tour through Naples' streets.
Where: Via Materdei, 27 Phone: +39 0815573682 Web-site: www.pizzeriastarita.it
Opening hours: It is open every day at lunch and at dinner. On Sunday only at dinner.
DA ATTILIO
The pizzeria-restaurant Da Attilio is located in the Pignasecca district, home to one of the oldest markets of the city. A great, light and digestible pizza and typical Neapolitan cuisine dishes have been served since 1938 in a friendly and family atmosphere. Noteworthy the Carnival sun-shaped pizza with the ricotta filled crust or the 9 tastes Attilio pizza and the "bacetti", tiny pieces of dough stuffed with ricotta and provola cheese, arugula, pepper and nutmeg. The desserts are homemade and worth mentioning is the" cassata ripassata al forno".
Where: Via Pignasecca, 17 Phone: +390815520479
Opening hours: It is open at lunch and at dinner from Monday to Saturday.
SORBILLO PIZZERIA
One of the most ancient, famous and popular pizzerias, frequented by tourists and Neapolitans alike. For three generations a great, tasty and inexpensive wood-oven pizza has been served up in this cosy and decorated place with white marble tabletops.
Where: Via dei Tribunali 32, Phone: +39 081446643 Web-site: www.sorbillo.it
Opening hours: noon-3.30pm & 7-11.30pm all days, no Sunday (except in December)
DI MATTEO PIZZERIA
Considered one of the most famous and cheap Neapolitan pizzerias, either for the special care about the ingredients of the pizza and of good fried appetizers, especially the tasty frittatina, or for the kindliness of the staff. With its 40 types of pizza it is a very beloved place by local people. In 1994, during the G7 meetings, Bill Clinton, at that time USA President, ate there a fried pizza and an oven pizza and, of course, chose as a drink…. a coke!
Where: Via dei Tribunali, 94 Phone: +39 081455262 Web-site: www.pizzeriadimatteo.com
Opening hours: 10am- 10pm Monday to Saturday, no Sunday (except in November/December)
IL PIZZAIOLO DEL PRESIDENTE PIZZERIA
Just a minute walk away from the Duomo Cathedral there is this historic pizzeria, whose name derives from Bill Clinton's visit in 1994. Here you may have a good and crisp pizza made by Ernesto, a pizzaiolo since he was 7, and fantastic fried snacks, like the "zeppoline", deep fried dough balls.
Where: Via Tribunali, 121 Phone: +39 081210903
Opening hours 10am- 10pm every day
BELLINI RESTAURANT
Near the beautiful Bellini square, where it is possible to see the Greek ruins, there is the Bellini restaurant. Here you can choose between a tasty and delicious pizza and the good fish cuisine. We recommend the famous "Linguine al cartoccio", baked in paper and the "Linguine all'astice". Prices are low and the portions are large.
Where: Via Santa Maria di Costantinopoli, 79 Phone: +39 081459774 Web-site:www.ilbellinirestorante.it
Opening hours: All days at lunch and dinner, on Sunday only at lunch.
TRATTORIA CAMPAGNOLA
Since 1946 the typical and traditional Neapolitan dishes have been prepared in this nice trattoria. Every day the young and kind staff propose a different menu written on a blackboard on the wall and if you have any questions the waiters will help you in your choice!
Where: via Tribunali, 47 Phone: +39 081459034 Web-site: www.campagnolatribunali.com
Opening hours: It is open at lunch and at dinner, on Sunday and Monday only at lunch. On Tuesday it is closed.
TRATTORIA DA CARMINE
Just in front of Napoli Sotterranea entrance, the underground city, in Tribunali street there is this trattoria, a cheerful and bright place where you may taste traditional dishes, as "pasta e patate", "mpepata e cozze", stewed mussels, and spaghetti with clams, meatballs with tomato sauce, fried fish and others, in a welcome atmosphere.
Where: via Tribunali, 330 Phone: +39 081294383
Openings hours: It is open at lunch. At dinner, only from Wednesday to Saturday, 7pm to11pm. Monday closed.
TRATTORIA DA FORTUNA
Looking at the entrance of this trattoria, you only think it is a place where to buy delicatessen. But if you look at the inner part of the shop you can see tables ready to welcome people who want to enjoy simple and typical Neapolitan dishes.
Where: Via Tribunali, 287 Phone: +39 081441120
Openings hours: It is open at lunch and at dinner. It is closed on Wednesday
L'ANTICA PIZZERIA DA MICHELE
Claimed by many to be one of the best pizzerias in Naples, here the pizza has been made following the same recipe since 1870. They still serve only two varieties of pizza: the classic Margherita and the Marinara, without mozzarella and with garlic and oregano. They are both very cheap, the place is very simple and friendly and the pizza is huge. Just a curiosity, here Julia Roberts eats the pizza in the movie "Eat, Pray, Love".
Where: Via Cesare Sersale, 1 Phone: +39 0815539204 Web-site: www.damichele.net
Opening hours: It is open at lunch and at dinner. It is close on Sunday.
TRIANON

Important American and Japanese magazine have dubbed this pizza as "The best in the world". Since 1923 this pizzeria has attracted many people, offering the classic margherita, and more than 20 variations, as the pizza "Gran Trianon" at 8 flavours. Every pizza is huge, soft and crispy, and inexpensive.
Where: Via Pietro Colletta, 44 Phone: +39 0815539426 Web-site: www.pizzeriatrianon.it
Opening hours: It is open every day at lunch and at dinner.
AL 53
This restaurant, opened in 1960, has always been a privileged place for artists and writers. It has glass doors overlooking the central Dante square. The dishes are those of the typical Neapolitan cooking, as the "minestra maritata", or the "pasta e patate" and "braciole", meat chops. The atmosphere is very pleasant.
Where: Piazza Dante, 53 Phone: +39 0815499372
Opening hours: It is open at lunch and at dinner. On Tuesday closed.
VESI
Old tradition pizzeria, where the pizza is excellent for the dough and for the perfect balance of ingredients and cooking. Very recommendable is the fried pizza dough filled with typical provolone del Monaco cheese, or the white pizza with basil, chestnuts and provolone del Monaco cheese. The space is welcoming and the staff very friendly.
Where: Piazzetta Miraglia, 388 Phone: +39 081299995
Opening hours: It is open every day at lunch and at dinner.
PALAZZO PETRUCCI
Housed in a 14th century building overlooking the famous San Domenico Maggiore square, one Michelin star restaurant Palazzo Petrucci is a button-hole of the Neapolitan restaurant industry. In a refined, stylish and minimalist space the Neapolitan tradition dishes are served, revisited and made with excellent raw materials. The menu is always updated and includes dishes as the paccheri pasta stuffed with ricotta cheese and ragù meat sauce.
Where: Piazza San Domenico Maggiore, 4 Phone: +39 0815524068 Web-site: www.palazzopetrucci.it
Opening hours: it is open at lunch and at dinner from Tuesday to Saturday. On Monday only at dinner. On Sunday it is close.
PALAZZO PETRUCCI PIZZERIA
Since April the pizzeria Petrucci has been open always in San Domenico Maggiore Square. Here nothing is left to chance. The ingredients are high quality and assembled with criterion. The dough is thin, fully extended and well cooked. Recommendable is its pizza with lard, cheese, cherry yellow tomatoes and bacon. To accompany the pizzas a selection of fine handcraft beers. It has 100 seats among the internal room, the terrace on the top floor and the outdoor tables.
Where: Piazza San Domenico Maggiore, 5 Phone: +39 0815512460
Opening hours: At lunch and at dinner, every day.
PIZZERIA DELL'ANGELO
Historical Neapolitan local, situated in the hearth of the ancient center of Naples, it is a cosy, informal and recently renovated pizzeria. It is famous for its pizzas boasting a crust filled with ricotta cheese and pizzas with nutella, a chocolate and hazelnut cream.
Where: Piazzetta Nilo, 16 Phone: +39 0815422001 Web-site: www.pizzeriadellangelo.com
Opening hours: From Tuesday to Sunday at lunch and at dinner. On Monday closed.
LE SORELLE BANDIERA
Near Napoli Sotterranea, in the center of Naples, there is this welcoming pizzeria, furnished and tended with great taste. The tiled and iron tables together with the presence of the glass case containing a holy crib and the high quality and variety of the pizza make you want to come back here. The dough rises for about 20 hours in Neapolitan yellow tuff that maintains a constant temperature and humidity and the pizza is particularly digestible.
Where: Vico Cinquesanti, 33 Phone: +39 08119503535 Web-site: www.lesorellebandiera.com
Opening hours: From Wednesday to Sunday at lunch and at dinner. On Monday and Tuesday only at lunch.