Read the main tips about Napoli and send us yours!
Tips about City Attractions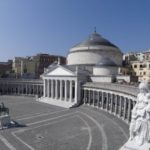 Play at Piazza Plebiscito: walk from the back of the Royal Palace and try to reach the opposite end without looking. In theory, you should be able to walk along a straight path to the Basilica in front of you.
If you love sculpture, don't miss the Veiled Christ in the San Severo Chapel. There, you'll also find mysterious anatomical machines.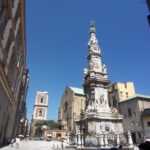 If you don't have a lot of time in Naples, go to Spaccanapoli, the main road of the historic centre!
If you love Christmas, don't miss the chance to visit the sheperds artisans at work going in San Gregorio Armeno road during every day of the year.
Not everything is on the surface of the city: you can visit and walk though Naples Surroundings to see the roman city!
If it's too warm for you, go to Capodimonte wood. There, you will find an amazing museum too and you will see the city from above!
Would you like to take a traditional transport? Take the funicolare to go around the main areas of the city!
Naples Metro makes you feel lost? Take a look to our Naples Metro guide. You will find every information about the artworks too!
If you are fascinated by trains, go to the National Railway Museum of Pietrarsa, in Portici.
If you want to visit Sorrento or Amalfi Coast, you can choose to go there by bus or by train (from the main station) or by ferry!
Traffic in Naples is a nightmare: if you want to go faster to your destination, take the metro or the funicular!
Tips about Neapolitan Food
In Naples you can find typical chocolate too. Among the most famous are the "Foresta" kind of Gay-Odin and the Perzechella in Santa Chiara.
One of the most traditional recipes of Neapolitan cuisine is pasta with potatoes. Don't miss the chance to taste it when you are in Naples!
Street food in Naples is a must: while walking, try a "cuoppo", a little small cone full of seafruits and/or fried vegetables.
If you like desserts, you must try "sfogliatella". It comes in two versions: a crunchy one (riccia) and the softer one (frolla). Which one will you like the most?
If you are hungry in Naples and you would like to taste something traditional, don't forget that pizza is not the only one cooked in the oven. Fried pizza is really tasteful too!
Napoli through your words
See Naples and then… live!
Hello to everyone,
I'm from Santander in Spain and last summer I had a wonderful idea…to visit Naples.
When I decided to come to Naples I knew about all problems of this city, all the world spoke about garbage, mafia, corrupt politicians but I knew also that Napoli is not only this.
On the first day, I decided to visit the historical centre, because my hotel was close to it and I discovered a new world: many narrow streets intersect like a spider web. Each one of these seemed on the point of swallowing you, but it was not a negative thing rather a positive one. In fact you were about to be swallowed by the Neapolitan spirit made of colors, voices, gestures and charm.
Although I'm from Spain and all of you know that Spain is very similar to Italy in many things, what I saw was new for me .
I continued to walk along these narrow streets when finally I found the street of the cribs… oh my God, nothing of what I've seen in my life was as wonderful as this! On both sides of the street were many stalls with lucky charms, small statues of famous people, cribs with lakes, rivers, fountains, woods and trees on.
When I arrived at the end of this street, oh how careless of me, I forgot to tell you the name, Saint Gregorio Armeno street, I was in Tribunali street, the street of pizzas. Now I had many choices but in the end I decided to go to the best pizzeria…Sorbillo. Here I had the best pizza in the world: large, completely covered with tomato, mozzarella and parmisan cheese.
I could tell you much more about Naples and my trip, but I thought to start just with the wonderful experience of the first day. Very soon I will also tell you about the rest of my trip and I'm sure you will decide to come to Naples one day!
Then, very well, one more thing.
Do you know the Italian idiom " see Naples and then die"?
For me it's the opposite…see Naples and then live!
Bye, bye
Oscar
Naples… what else?
This was my first time in Naples, my first trip in Naples and I want to tell you about this!!
On the first day, we were guided through the narrow streets and the many churches and cathedrals found the centre of Naples. The tours were held by our fellow guide who explained a few of the legends were passed on from the past. We also went to see Saint Gregorio Armeno street and to visit a lot of shops about the manufacture and sale of napolitan crib. It was too funny!
On the second and third day, amongst the activities, we had a day trip to Caserta to visit the Royal Palace and also visits to many beautiful beaches such as Gaiola. We also visited the Grotta di Seiano and the archaeological remains of the Pausilypon which consisted of breathtaking views. We also visited Castell del'Uvo which is situated on the famous lungomare of Naples.
On another day we had an esoteric tour where we visited the Cimiterio delle Fontanelle were thousands of skulls are found. Once again, the tour guide explained a few stories and legends which were to this location. On the same day we had a visit in Capo Di Monte, a grand, beautiful forest.
One day , I decided to go to Capri instead with a friend of mine. Capri is beyond beautiful, white painted houses, narrow streets filled with luxury shops and hotels which then lead to the most breathtaking views ever!
The last two days of our trip were spent in Salerno, where we met another group  of our friends! During these days we resided at Vietri sul Mare and we visited Amalfi and its Coast. We also had an exclusive private boat trip around the coast and were also allowed to swim around this gorgeous scenery.
Last but not least – the food!!! I lost count of how many pizzas I ate in the span of 14 days. We visited the most famous pizzerias in Naples, such as Sorbillo and Pizzeria Oliva – da Concettina ai Tre Santi. We were also lucky enough to have a booked place at the world known pizzeria – Da Michele, which was featured in the book 'Eat, Pray and Love'. This pizzeria always has a queue of people waiting outside, and we were lucky enough to not wait a lot.
I want conclude saying that it was amazing like trip … for the food,the people who I met, for the group and of course also for the city!!!
I would like to come to Naples to fight against the stereotypes and discover the true Napoli! The Art, Culture, History of our city, wonderful ancient monuments, breathtaking landscapes and tasty Italian food.
You'll live easy their  life style (and food style as well, with our specialties), discovering the most pleasant side of the city and its surroundings.
Naples is not like the others cities that i saw, Naples is magic!!!
Best regards
Michela from Malta
Returing to Naples
In the paths of the memory I can look at the sites of my past: Suor Orsola Benincasa University with its cloister, its garden, its reeds. Via Luca Giordano, San Francesco steps, Gay-Odin chocolate shop, Vanvitelli square. Via Sanfelice and via Parco Margherita with their beautiful liberty buildings.
The memorial stone of the writer Edoardo Scarpetta with his witty remark "Here is where I laugh". Mergellina, via Caracciolo, Parco Virgiliano: the first drives and then via Tribunali, Spaccanapoli and San Gregorio Armeno, the street of the holy cribs. I can recognize the familiar voices, sounds and smells wafted through the air. I perceive the imperceptible, light and deep emotions. I belong to this city, I'm part of Naples, revealed and mysterious like a Kandisky painting, noble and dignified like its soul that dawns every day shining in the words, in the eyes, in the smiles of the people.
I don't know what makes this city so beautiful and incredible: the views, the art heritage, the colors, the flavours. I only know that Naples, like a jealous bride conceals and discloses all that can determine the pleasure of enjoying a city.
Liliana Iervolino
10 REASONS to visit Naples
Surely Naples (or Napoli) is a fascinating and charming city for its millenary history, art, culture, food, accommodation, music, views and people. Walking along its picturesque streets and alleys is like living on a stage where the senses, the voices, the perfumes, the smells, and the faces mix and live against the background of the beauty and spell of this city. There are so numerous reasons to visit Naples because Naples has so much to offer: whether you love art, food, enjoyment, fascinating sites or else you will find the full answer to your expectations. So listing ten reasons to come here is reductive on one side but can also be an incentive to organize a trip to discover our splendid city. Not only Naples offers thousands of interesting things to see and to enjoy, but it is also the starting point to see gorgeous sites within a stone's throw, like Pompei, Ercolano, Vesuvius, Sorrento and Amalfi coasts, Capri and Ischia islands, etc.
Come to discover Naples and, once you are here, I'm sure you'll get a grip on it!
Historical Center
Declared World Heritage Site by Unesco, it is one of the most interesting and beautiful Italian historical centers and the largest of Europe. It boasts churches, palaces, and ancient monuments and is a site full of fascination and liveliness where you can feel the soul of the city. You will be enchanted by its alleys and surprised every time you take a turning for an eye-candy suddenly appearing. Please don't forget to take your camera with you!
San Severo Chapel
This chapel is one of the true pearls of the Historical center, just near San Domenico square. It displays the outstanding and famous statue of the Veiled Christ. This marble sculpture carved by Giuseppe Sammartino in 1753, shows the figure of Christ lying under an incredibly thin veil. His facial features, body, and wounds are visible through the cloth and create incredible visual effects. Don't forget to visit the underground chamber where you can admire the Anatomical Machines, a male and a female human skeletons with intact artery and vein systems.
Food
Food in Naples is a tourist attraction! Let's start with the pizza, the symbol of Naples together with the Vesuvius and the blue sky. It is an ancient traditional dish that you can find in any street or restaurant: fried pizza, cut into pieces, filled, with or without tomatoes, with vegetables or seafood, it can satisfy the most demanding taste. If you stop at a restaurant you will have to decide if to start your meal with a pizza or a plate of spaghetti. Naples, is also the home town of spaghetti, according to the Neapolitan tradition with tomatoes or seafood. But you won't have any doubts about how to finish your meal: babà, pastiera or a sfogliatella if you haven't had already one during the morning! These are only extremely few examples of the numerous delicacies you may enjoy in Naples. A good reason to visit Naples.
Archeological Museum
It is one of the most important and leading archeological museums in the world, particularly noteworthy for the Greek and Roman sculptures and the mosaics recovered from Pompei. But surely outstanding is the marble grouping of the 12-foot tall Farnese Bull, the largest ancient sculpture ever found, carved from one marble piece. It is called so because it belongs to the Farnese family's collection of ancient Roman statues also housed here.
Madre
Although Naples is so rich in ancient valuable works of art, modern art is acquiring a more and more significant role. The MADRE museum, that is a museum of contemporary art Donna Regina, is housed in a XIX century building and offers permanent collections of works of Italian and international artists as well as single exhibitions.
Amalfi and Sorrento coasts and Islands
If you are planning to spend some days in our area you should also visit the stunning Amalfi and Sorrento coasts with breathtaking views and characteristic towns, but also the islands of Capri, Ischia, and Procida. They may be reached by car or bus or train or of course hydrofoils for the islands. These are all places known all over the world and it will be quite difficult for you to decide which site you've loved best or where you've had your best meal.
Capodimonte Museum
This museum is hosted in the Royal Palace of Capodimonte, built according to the will of Charles of Bourbon. The palace is surrounded by a large and green park and works by Caravaggio, Raffaello, Botticelli, Michelangelo, Tiziano, and many other artists are displayed here. The park is loved by the Neapolitans for its beauty, its clean air and for the chance, it offers of jogging and walking or playing football on Sunday mornings and summer evenings.
Pompei and Ercolano
Pompei and Ercolano are considered the most magnificent and important archeological sites in the world. The ruins of amphitheaters, baths, mosaics, temples, shops, and houses give a unique view into the lives of ancient Romans. The two towns hit by the eruption of the Vesuvius in 79AD have perfectly preserved thanks to the ashes that covered them and walking along their streets is a fascinating and moving experience. Both of them are a few kilometers far from Naples and can be easily reached by car, train, and bus.
Napoli Sotterranea
It refers to what lies underfoot Naples: tunnels, tanks, and cavities dug into the tuff. Since the Greeks and through the centuries people mined there tuff to fortify the city walls. Napoli Sotterranea extends for thousands of miles and its cavities impress for their grandeur. But also the Catacombe and the Roman market under San Lorenzo church belong to the subsoil of our intriguing city.
Holy Crib in Naples
Streets and alleys in the historical center are always most appealing, but one alley can't be compared to any other places in the world: San Gregorio Armeno street. This street, just a few meters long, is overcrowded with tiny shops of artisans working all the year round to realize the Holy crib, figures and decorations for Christmas. During December, the atmosphere becomes frenzied but also magical.
These are just a few good reasons to come to Naples listed at random. But there are so many others that could be a discovery even for the Neapolitans! So… visit Naples !!!