Piazza Dante is one of the most important squares in Naples. Here's what to see in Piazza Dante in Naples.
Piazza Dante is one of the main squares of the city of Naples. The large square near the historic center is entitled to Dante Alighieri. The statue at the center of the square portraying him was created in 1871 by Tito Angelini and Tommaso Solari jr.
Read more about Napoli Metro Art Stations
What to see in Piazza Dante
Piazza Dante is right at the beginning of Via Toledo, one of the main streets in the center and for shopping. Another important road leading to this square is Port'Alba.
The hemicycle shape of Piazza Dante is due to Luigi Vanvitelli. The architect gave it this shape during the second half of the eighteenth century to celebrate Charles III of Bourbon. Indeed, the 26 statues in the square commemorate the king's virtues. At the center of the square is the building that once was the convent of San Sebastiano. Today, it houses the Vittorio Emanuele II high school.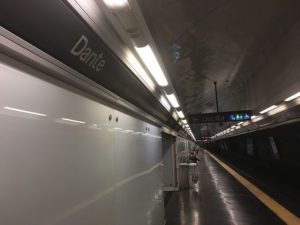 In addition to the High school, there are other important buildings and monuments overlooking the square. The Church of the Immaculate Conception of Healthcare Workers, the church of Santa Maria di Caravaggio, the church of San Michele in Port'Alba, and the church of San Domenico Soriano.
To get to Piazza Dante use line 1 of the Naples underground. The Dante stop is also the opportunity to see one of the art stations that are part of the Metro dell'arte project. Like some other stations on line 1, Dante's station also houses works of art. Furthermore, the station itself is a valuable architectural work since it was designed by Gae Aulenti.