Naples is a city boasting an extraordinary artistic heritage, with a rich collection of artworks spread across museums, churches, and historical palaces. Here are five artworks you cannot miss during your visit to Naples.
Masterpieces to see in Naples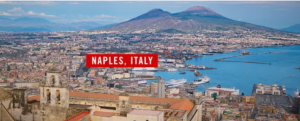 Here are five artworks you cannot miss during your visit to Naples.
"The Veiled Christ" by Giuseppe Sanmartino
"The Veiled Christ" is one of Naples' most famous and iconic artworks, displayed in the Sansevero Chapel. Created by Giuseppe Sanmartino in 1753, this marble sculpture depicts the body of Christ covered by a transparent veil that looks incredibly real. The delicacy and skill with which the marble is sculpted are impressive, making this piece a timeless masterpiece.
"The Flagellation of Christ" by Caravaggio
Caravaggio, a master of tenebrism, painted "The Flagellation of Christ" in 1607. The artwork is exhibited in the Capodimonte Museum, a magnificent palace housing an extensive art collection. The painting depicts the moment when Jesus is scourged, with a masterful use of light and shadow that creates an intense and dramatic atmosphere.
"The Seven Works of Mercy" by Caravaggio
Also by Caravaggio, "The Seven Works of Mercy" is another extraordinary artwork located in the Church of Pio Monte della Misericordia. Painted in 1607, this giant canvas depicts the seven acts of mercy, offering a spectacle of strength and compassion.
"The Duke of Martina – Ceramic Museum"
The Duke of Martina Ceramic Museum, located in the Villa Floridiana park, houses an extensive collection of ceramics and porcelain. It is a true treasure for ceramics art enthusiasts, with pieces from various eras and styles, including renowned works by artists like Stingo, Majello, and Ginori.
"Annunciation" by Simone Martini and Lippo Memmi
Situated in the National Museum of Capodimonte, this artwork is a superb example of Gothic art. Created in 1333, it depicts the Annunciation to Mary by the Archangel Gabriel. The grace and elegance of the figures, combined with the sophistication of details and colors, make this artwork one of the most captivating in the collection.
These artworks are just a glimpse of Naples' artistic richness. Visiting these masterpieces will allow you to immerse yourself in the incredible world of Neapolitan art and history, experiencing the emotion and inspiration that only authentic art can offer.
Read more about How to visit the Quartieri Spagnoli of Naples in complete safety?