Who designs the mermaids that you see on the streets of Napoli? Until June it is possible to get to know the artworks by Trallallà at the Andrea Ingenito gallery.
Until June it will be possible to visit Save the mermaids, the exhibition in which it is possible to admire all the mermaids by Trallallà, the street artist who gave a contemporary aesthetics to the mermaid Partenope.
According to the tradition, the 3 mermaids Parthenope, Ligea, and Leucosia, beaten in the song by Orpheus, were lost in the sea and turned into rocks. From the sources of Apollonio Rodio, Ligea ended up in Terina, Leucosia in Posidonia, and Partenope in Neapolis (the ancient name of Naples). That's why the mermaid is not a random symbol in Naples. Trallallà provides a contemporary vision of it.
If you have already walked the streets of Naples, you have probably already seen some works of this street artist.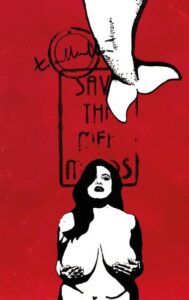 Trallallà, exhibition in Naples
A few weeks after the great success achieved at the PAN in Naples, with the first exhibition in a museum, Andrea Ingenito decides to host the first solo exhibition by the artist Trallallà.
"Save the mermaids" is the title of the exhibition open until the 18th of June. The exhibition includes unpublished fragments of boats, and collage work on wood and paper made for the occasion. The artworks that used to be on the walls of the historic center of Naples are now part of private collections and prestigious institutions. This is what creates contamination between street art and traditional art.
The art of Trallallà is an art of sharing, always connected with the territory and its people. It is simple and spontaneous, and it reflects the naturalness of Naples, the myth of Partenope that the artist represents in the sensual figures of the Mermaids. His mermaids are curvy, ironic, and transgressive. Real seductive icons of contemporary Neapolitan street art!
The Andrea Ingenito contemporary art gallery address is via Cappella Vecchia 8a. It is open from 11 am to 7 pm, Tuesday to Saturday. On Mondays and holidays, it is possible to visit the exhibition by appointment.