Autumn 2022 coming! A weekend in Naples in autumn is the perfect destination. Here's what to do this autumn 2022 in Naples.
Fall is one of the best to visit the city. The climate is no longer too hot and it is possible to walk for hours in the alleys of the city without ever getting tired. Finding things to do in Naples in autumn is easy. The city awakens from Summer!
What to do this autumn 2022 in Naples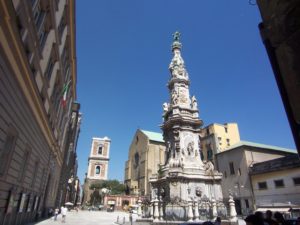 Spending autumn in Naples means having the opportunity to go on excursions both to the sea and to the mountains. In addition to joining an excursion to Vesuvius, in Naples in Autumn you can also go swimming! The beaches of the Campi Flegrei area are less crowded than ever. Recommended destinations? Miseno and Miliscola.
Fall 2022 in Naples is the perfect opportunity to stroll through the streets of the historic center. The historic center of Naples is a mine of hidden places to discover. In addition to the Duomo, we recommend visiting Naples subsoils and the Sansevero Chapel.
Autumn 2022 in Naples the season in which to rediscover the traditional cuisine of the city. In recent years the city has transformed. The places where you can taste real Neapolitan cuisine have multiplied in every district of the city. Whether you come for a day or a month in Naples, you cannot avoid eating the real Neapolitan pizza.
In Fall 2022 Naples will once again open its doors to events. After giving up on indoor events for the summer heat, it will be possible to return to see events and shows in the most beautiful theaters in the city. The most famous in the world, the Teatro di San Carlo, can also be visited during the day.