Amalfi is the place that gives its name to the whole coast which you can visit lots of villages characterized by the most beautiful landscape and crystal-clear beaches. For about 20 years it has been declared with all the Amalfi Coast heritage of humanity by UNESCO.
The advantage of its geographical position has meant that it was one of the most coveted settlements since Roman times – as you can understand by seeing the emblem of the city that still is accompanied by a Roman motto. Another important piece of Amalfi history is represented by the Amalfi Tables, a maritime code written in Amalfi and which was then used by the entire Mediterranean area until the 16th century.
This village is probably the easiest to reach for those wishing to visit Amalfi and the Amalfi coast. You can go by bus or taking a ferry or hydrofoil from Naples and Salerno or you can go there by renting a car. An alternative is to visit the Amalfi coast through one of the professional drivers that you can hire via BookingNaples – so you can be sure to travel with comfort and safety.
What to see in Amalfi
Among the places to visit religious architecture stands out. The cathedral of the city, dedicated to St. Andrew, is famous for its Arab-Sicilian style and for being flanked and sometimes superimposed on other churches of different eras.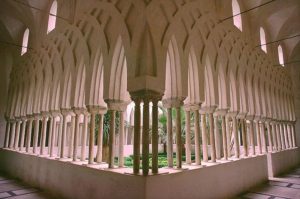 Another important church is the one dedicated to Sant'Antonio. The Church is in Baroque style and boasts eighteenth-century paintings. In addition to the wooden choir, the particularity of this church is in the cloister, which can be visited only on the afternoon of the day when St. Anthony is celebrated, on June 13th. This village is full of churches to visit, each with a very strong historical importance.
Other architectures to see that have religious significance are the Fountain of Sant' Andrea, with marble sculptures of the saint and others that represent marine deities, and the fountain of Cap 'e Ciuccio, decorated with a nativity scene.
If you are looking for spots from which to enjoy striking views of the coast, you can visit the towers near the village: Ziro Tower, Pogerola Tower, Tabor Tower and Tower of the Moon.
Atrani
Atrani has been elected one of the most beautiful villages in Italy despite being very very small: it is among the smallest of the Amalfi coast and it is the smallest of the whole nation.
You can easily go there once you have arrived in Amalfi. In fact, from the historic center of Amalfi, you can reach Atrani on foot in a few minutes. You can go to Amalfi by bus from Salerno or other towns and villages of the Amalfi coast as well as by sea. Plus, through BookingNaples you can hire a professional driver who can take you there in a car with all the comforts.
The history of Atrani is very old: the first settlements date back to the first century AD Remains of ancient Roman villas have been found in the area. Today in Atrani you can see lots of architectures in which stairs play a huge role, given the slope on which the whole town nucleus rises. The churches that you have to see once you go there are those of San Salvatore de 'Birecto, the Church of the Immaculate Conception, that of Santa Maria Maddalena Penitente, and the Camposantino.
Among the non-religious architecture that you can visit stands out the Torre Dello Ziro which rises on Monte Aureo. From there you can admire both Amalfi and Atrani from above as it is located on the territory not far from Scala. Another attraction and landmark of the area are the Cave of Masaniello, a very important character in Campania folklore.
Atrani and Escher
Atrani also plays an important role from an artistic point of view as the Dutch painter Escher lived there for several years. The stairs that characterize Escher's paintings were born thanks to these landscapes and architectures that inspired him.
In Atrani it is easy to find details that celebrate the painter in tiles and ceramics whose drawings recall his most famous paintings. At certain times of the year, there are also walking tour in which it is possible to follow the precise flights of stairs that would have inspired the painter to paint masterpieces such as "Metamorphosis".
Selected Bed and breakfast in Amalfi
B&B Villa Maria Luigia
Address: Via Mauro Comite, 48
Telephone: +39 089 831460
Web-site: www.amalfivillamaria.it
B&B Dieci Sedici
Address: Piazza Municipio, 10
Telephone: +39 089 872252
Web-site: www.diecisedici.it
B&B Residenza Pansa
Address: Salita Dei Greci, 11
Telephone: +39 089 872277
Web-site: www.residenzapansa.it
B&B World Center
Address: Salita Monte Fungione 1
Telephone: +39 089 831887
Web-site: www.worldcenterresort.com
B&B Residenza sole
Address: Piazza Municipio Salita Sopramuro, 4
Telephone: +39 089 871364
Web-site: www.residenzasole.it
B&B Costa Amalfi
Address: Via Giovanni Augustariccio, 50
Telephone: +39 089 831950
Web-site: www.locandacostadamalfi.it
B&B Le Palme
Address: Via Salita dello Spinale, 23
Telephone: +39 089 830 4548
Web-site: www.lepalmeamalfi.com
B&B Palazzo Pisani
Address: Via dei Curiali, 1
Telephone: +39 089 871849
Web-site: www.palazzopisani.com
B&B Il Porticciolo di Amalfi
Address: Via Annuziatella, 38
Telephone: +39 089 873096
Web-site: www.amalfiporticciolo.it
B&B Sharon house
Address: Via dei Curiali 4
Telephone: +39 089 873576
Web-site: www.sharonhouse.it
B&B Residenza del Duca
Address: Via Duca Mastalo II, 3
Telephone: +39 089 873 6365
Web-site: www.residencedelduca.it
B&B Ercole di Amalfi
Address: Via Giovanni d'Amalfi 29 bis
Telephone: +39 089 831843
Web-site: www.ercolediamalfi.it
B&B Antico Boro dei Limoni
Address: Via G. D'Amalfi, 34
Telephone: +39 089 831633
Web-site: www.anticoborgodeilimoni.com
B&B Eva Rooms
Address: Via Gabriele di Benedetto, 3
Telephone: +39 089 872875
Web-site: www.evarooms.it
B&B Poggio Antico
Address: Via Soramare, 2
Telephone: +39 081 833 2515
Web-site: www.sulpoggioantico.com
5 STAR HOTELS
Hotel Santa Caterina
S.S. Amalfitana, 9 Phone number +39 089 871012      Web site www.hotelsantacaterina.it
This hotel is just 1 km far from the city centre and it boasts a stunning view on the famous Amalfi coast. In the two restaurant you can taste the real Mediterranean cuisine accompanied by a glass of a regional, Italian or international wines from the cellar. Hotel Santa Caterina offers a swimming pool, a private beach, a fitness centre and a spa with sauna, Turkish bath and massages
Hotel Convento di Amalfi
Via Annunziatella, 46 Phone number +39 089 873 6711      Web site www.ghconventodiamalfi.com
This hotel, as the name suggests, is built in a old convent from the XII century overlooking on the stunning Amalfi coast, a view that you can also enjoy from all the rooms. Hotel Convento di Amalfi has an amazing infinity pool, a gym and a spa. This central hotel has also two bars, one indoor and one poolside, and a restaurant that mixes refined traditional food with international one.
Il Saraceno Grand Hotel
Via Giovanni Augustariccio, 33 Phone number +39 089 831148      Web site www.saraceno.it
This hotel is built in an ancient Arabic mansion on the cliff side where you can admire the beautiful view of the blue Amalfi's sea. The interior design is in Arabic style recalling the old story and the legends of the buildings. Il Saraceno has a private beach, an outdoor swimming pool, a free shuttle service to/from the town centre, a bar and restaurant. All the rooms have a view on the sea and are finely decorated also with painted tiles.
4-STAR HOTELS
Hotel Miramalfi
Via Salvatore Quasimodo, 3 Phone number +39 089 871588      Web site www.miramalfi.it
Located on the cliff side, this hotel has a marvellous view of the Amalfi coast with its blue sea recalled by the Mediterranean interior design. Hotel Miramalfi offers a beach, outdoor pool, a bar and a restaurant that dishes food from the traditional cuisine and that has the floor tiled with traditional majolica from Vietri.
Hotel Marina Riviera
Via Pantaleone Comite, 19 Phone number +39 089 871104      Web site www.marinariviera.it
This central hotel is just five minutes far from all Amalfi's main attractions. All the rooms overlook the breathtaking view on the sea and are provided with all comforts. Hotel Marina Riviera offers guided excursions, a solarium, an outdoor pool, a beach, a poolside bar and a indoor one. At Eolo's restaurant you can not only taste the delicious traditional food, but also learn how to cook it in the Eolo's cooking classes.
Hotel Luna Convento
Via Pantaleome Comite, 33 Phone number +39 089 871002      Web site www.lunahotel.it
With two century of hospitality, from conversion from a Franciscan monastery of the XIII to a inn, this hotel offers modern comforts in a beautiful ancient building with an amazing cloister. The rooms are finely decorated in Mediterranean style and overlook the sea. Hotel Luna Convento offers a outdoor pool and a restaurant where you can taste the traditional Mediterranean food.
Hotel Residence
Via delle Repubbliche Marinare, 9 Phone number +39 089 871183      Web site www.residencehotel-amalfi.it
This really central hotel take place in an aristocratic palace of the eighteenth century. All the rooms are fully equipped and have a balcony or a terrace overlooking the marvellous Amalfi's sea. From the hotel Residence's terrace you can enjoy a free breakfast and admire the stunning view. This hotel is the perfect option to visit the nearby town of the Amalfi coast thanks to its position.
Grand Hotel Excelsior
Via Papa Leone X, 32 Phone number +39 089 830015      Web site www.excelsior-hotel.it
This hotel offers an outdoor pool, a private beach and a free shuttle service to and from the town centre. The rooms have a balcony or a terrace overlooking the sea and surrounded by green lemon tree. Grand Hotel Excelsior has two restaurant that dishes typical food of the Amalfi coast and of the Italian cuisine, but the point of strength is the bar "Il Grottino" carved in a natural grotto where you can relax in an hot day.
Hotel La Bussola
Lungomare, 16 Phone number +39 089 871533      Web site www.labussolahotel.it
Hotel La Bussola is located in the centre of Amalfi and thank to its position you can easily reach other town of the marvellous Amalfi coast. The elegant rooms are decorated with Vietri Tiles and have a stunning view on the sea, such as the restaurant terrace where you can taste the delicious Italian cuisine.
Hotel Aurora
Piazzale dei Protontini, 7 Phone number +39 089 871209      Web site www.aurora-hotel.it
Surrounded by an amazing garden this hotel has a stunning view form the rooms and from the big terrace where you can start your day with a nice breakfast. The rooms are bright and some of them have also a terrace or a balcony. Hotel Aurora offers also several excursions in the marvellous Amalfi like the "Lemon tour" or the "God's path".