Spending a day on a farmhouse in Naples is the perfect idea for a day outside. While in the city it is difficult to find a space where you can breathe nature and get lost in the greenery, a few km from Naples there is more than one farmhouse where you can spend relaxing moments.
2 recommended farmhouses near Naples
Spending a day in a farmhouse near Naples is ideal for a break from the energetic chaos of the city. Here's where to go to taste the best local products.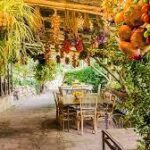 The Terranova Farmhouse, via Nastro Azzurro 23 in Massa Lubrense, is located in the heart of the Land of the Sirens. According to mythology, in fact, it would be right here that the sirens bewitched Ulysses with their song. In this evocative land, it is possible to taste the dishes of the traditional cuisine of the Sorrento Peninsula. Everything is prepared with strictly 0 km products. The customers of Fattoria Terranova also appreciate the furnishings and the organization of the staff, even during the most demanding events. For more information, please consult the official website.
Read more about What to see in Napoli
Another interesting destination for those who want to spend a day outdoors on a farm is Pozzuoli. Not far from Naples, there is in fact Il Gruccione, in via San Gennaro Agnano 63. In this area, from which it is possible to admire the solfatara and Vesuvius, it is possible to taste the traditional cuisine based on meat from farmyard animals. Here it is also possible to appreciate many products from the garden. What it's fascinating about Il Gruccione is its proximity to the sea and the vineyards of Piedirosso and Falanghina. You can also buy some of their products. For further information, please consult the official website of Il Gruccione, www.vitivinicolaiovino.com.