If you want to get into the most ancient and appealing part of Napoli, I suggest you visit the historical center, a true open-air museum recognized as World Heritage site by Unesco in 1995 and inserted in its Heritage List.
Every time you visit it there are colors, beauty, sounds and magic that can only be completely understood living there. There are more than 400 hundred historical churches, where artists like Caravaggio, Donatello, and De Ribera worked and even simply walking you can feel more than 20 centuries of art starting from its foundation by Greeks. The history of Napoli emerges in every corner of its historical center. It is impossible not to be enchanted by the wonders of this city! It has a very particular soul, beyond time and boundaries.
Napoli historical center, itinerary proposal
Arriving in Naples, the first walk in the historic center I suggest having is from Piazza Del Gesù to Piazza del Nilo. Or, if you are landing from a cruise, you can cross the road and with the Maschio Angioino castle on your left go straight ahead to Piazza Municipio. Then, turning right into via Medina and walk to Piazza del Gesù! But, why is this square so important?!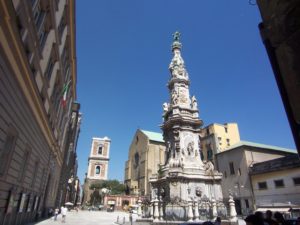 Here you can first visit the impressive baroque Church del Gesù Nuovo, built for the Jesuits in the late sixteenth century and then, in front of it, the Gothic Santa Chiara Church, one of the landmarks of the city.
Built-in the early 1300s it is the largest church of Naples. I also recommend you to visit the beautiful Majolica Cloister of the Clarisses and the Neapolitan Presepio with its shepherds of the eighteenth and nineteenth centuries.
Going along Benedetto Croce street you arrive in Piazza San Domenico where you can make a pause, drinking a cafè and eating a babà in Scaturchio café, one of the landmarks of Neapolitan foodies.
Once you are there, visit the San Domenico Maggiore Church. It is rich in artworks, like tombs, altars, sculptures, and paintings.
Immediately behind this square you can visit the wonderful and fascinating San Severo Chapel with the stunning Veiled Christ sculpture. Descending to Piazza Del Nilo you find a church where you can see a sepulcher by Donatello, the famous artist and a Roman statue representing the personification of the Nile god. After that, what do you think of a tasty pizza at "Sorbilllo", one of the best and famous pizzerias in the city?