Here is the second itinerary we propose to explore Napoli like a local. Its starting point is one of the oldest and most crowded squares of Napoli, Piazza Bellini. Here you can see some remains of the Greek-Roman city wall, dating back to the fourth century BC.
Napoli like a local, itinerary proposal
Going along the ancient of Napoli named via dei Tribunali you will find many historical churches. Including the Church of Santa Maria Maggiore della Pietrasanta, the first Neapolitan church dedicated to the Virgin Mary, with attached a high Roman brick tower and the Baroque church of Santa Maria delle Anime del Purgatorio!
Looking at the entrance of the church your eyes will be caught by the gloom and mysticism of bronze skulls and crossbones placed outside of it that intrigue the visitor and seem to invite him to come in.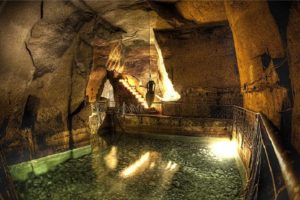 You will be surely impressed by Naples subsoils rich in symbols of great devotion. Also, there you can see tombs, altars and small skulls, such as the one covered by a veil, that the legend wants to belong to a young bride named Lucia, on whom Neapolitan women rely for their love labors.
In fact, the church was built as a place of worship of the souls in purgatory, worship still strongly felt in the city.
Going straight ahead you arrive in Piazza San Gaetano where there is an old gothic church of the thirteenth century San Lorenzo Maggiore. In its subsoil, there is the most important archaeological site in the city center.
In that area, there are the remains of public buildings of the Greek-Roman Napoli.  The ancient Roman Forum, corresponding to the ancient Greek agora and traces of pre-existing structures,  and the "Macellum", the old food market. Descending on the left, there is the famous street of the cribs, San Gregorio Armeno. There, you can also visit the beautiful San Gregorio Armeno church where, if it is a Tuesday morning, you could be present at the liquefaction of Saint Patrizia's blood.