The railway of Naples made history in Italian railways! The line from Naples to Portici was built before the unification of Italy. It was 1839 when the activities of the Bayard family station began. With the unification of Italy, however, work began on what is now the current central station of Naples.
The original project by the French architect Paul Amilhan and Nicola Breglia was completed in 1876. At the time, the central station of Naples was located 100 meters ahead of the current one. It was a one-floor building and there was a long hall with iron and glass structures to filter the light.
Read more about Napoli Metro Art Stations
Central Naples, how it's changed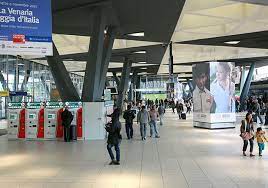 Naples Central Station has changed a lot over time. In the beginning, there were only 6 platforms in the central station of Naples. The station was expanded with a city plan of 1939 and with a project completed in 1960 coordinated by Carlo Cocchia. After the demolition of the pre-existing structures, important masters of the architecture of the time were involved: Pierluigi Nervi, Bruno Zevi, Giulio De Luca, Luigi Piccinato, and Giuseppe Vaccaro. In this period the station took on some elements that still characterize the iconography of the station nowadays: the roof with pyramidal blocks and the large three-legged pillars.
But you never stop improving! For this reason, the central station of Naples is in a process of continuous improvement. The great project signed by Dominique Perrault to adapt the central station of Naples to the circuit of the Grandi Stazioni is not yet completely finished. In the meantime, however, the first results are visible in the large grid that covers most of Piazza Garibaldi and from the playgrounds. The most evident change is also the expansion of the Galleria Commerciale (a Mall).