Xmas in Napoli means you can immerge yourself in the warmth of tradition as much as in something new.
Christmas atmosphere begins on December 8th, in occasion of the Feast of the Immaculate Conception, and continues until January 6th, in occasion of Epiphany.
For those who like to know every tradition of the city to explore and mean to spend Xmas in Naples, it's necessary to plan a walk in via San Gregorio Armeno, also known as the alley of the nativity scene makers. It is an alley located between via deiTribunali and Spaccanapoli in which are situated shops of artisans who dedicate all their time to create shepherds. The characters are not only those who are necessary to create a traditional nativity scene. Neapolitan artisans love to propose small figures of politicians, personalities of showbusiness, singers, bands and even the pope. A walk in there is a must for Christmas lovers!
For a Xmas in Naples 100% traditional you need to pay attention to the recipesthat Neapolitan people prepare for the occasion. As main dishes Neapolitan people eat capitone(sort of an eel) or salted cod. The last one can be offered as first course, with pasta, or fried, as a second course. The typical Neapolitan Christmas sweets are struffoli: very small balls of fried dough covered with honey; mustaccioli and roccocò – soft chocolate desserts.
If you are looking for something new, specifically thought for Christmas 2017, you can go to Hotel Mediterraneo to admire the artwork of the Spanish contemporary artist Ana Soler: a Christmas tree 50 thousand meters long made of copper wire. The tree is in the atrium of the hotel and is part of an installation called "Christmas Endless Light – Tramas de Luz".
Music lovers must not miss the concerts that will take place during Xmas holidays, such as the one at 12 'o clock on 24th December: flamenco and jazz for piano and guitar and the one on December 30th at 8.30 p.m. during which it will be re-proposed Dickens classic "A Christmas Carol" in a new form. Botheventswill be at Sala del Capitolo in San Domenico Maggiore.
Who is looking for events for all the family can visit Santa Claus village at Mostrad'Oltremare and Edenlandia, where are merry-go-rounds, carousels, markets and daily activities thought for the whole family and people of all ages.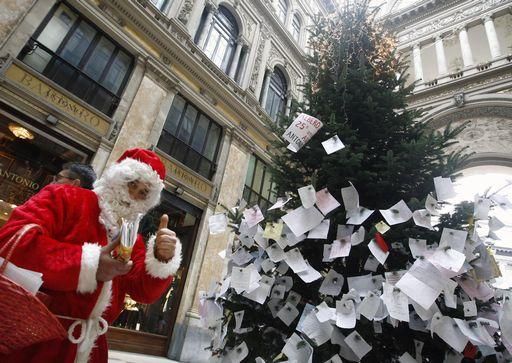 If you imagine Christmas in Naples, forget snow-flakes coming down gently in the stillness of the night! But in return you'll be reworded with the most joyful, exciting and unforgettable Christmas.
During the period of the "the most wonderful time of the year" Naples has a magical atmosphere also derived from the many artistic and culinary traditions. Christmas celebrations begin on December 8 when Christmas trees and Holy Cribs are prepared and end on January 6, the Epiphany. The setting up of the crib is strongly felt by Neapolitan families, as aggregative and creative and must be finished by December 24 at midnight when the Child is placed in the cradle. The presepi are made of cork, tree bark and musk and every year a new figurine must be added so Neapolitans take a walk to the tiny shops in the renowned San Gregorio Armeno street. As a matter of fact it's not easy walking along this street since it gets so crowded of tourists and customers in this period that pedestrian access is strictly one way. Furthermore there is such a variety of figurines showing people involved in daily activities that sometimes it's difficult to remember the ones already present in your crib. The tradition of the crib goes back to 1025 with the first presepi just showing Our Lady and St. Joseph, the manger with the child, the ox and the donkey. But in the '600 there was the introduction of scenes of everyday life reaching its peak in the '700, the golden period of the Neapolitan crib. But the artisans in San Gregorio Armeno also create tiny statues representing famous Italian and foreign politicians, actors or football players.
Xmas in Naples, cuisine traditions
Christmas in Naples is important for its culinary traditions too. On Christmas Eve and on Christmas Day families get together and enjoy important dinners. The Eve dinner is characterized by spaghetti with clams and by fried cod, while Christmas dinner by meat and vegetables, including minestra maritata and chicken broth. Both menus are followed by typical Christmas sweets, prepared at home following ancient recipes handed down for generations, as struffoli, rococò, mostaccioli, pastiera. At midnight on Christmas Eve people go to Mass while on Christmas day, after exchanging gifts families play tombola, a game similar to bingo in which each number has a different meaning according to the Neapolitan "Smorfia" (a book used to analyze symbols of dreams). Another Christmas tradition is that of the zampognari, bagpipe players dressed with sheepskin vests and dark cloaks, strolling along the streets to collect money. Celebrations end at the Epiphany when children believe an old lady brings them presents if they have behaved well during the year.