The exhibition about Salvador Dalì and Alfred Hitchcock in Naples will astonish you!
Spellbound: scenografia di un sogno (i.e. scenography of a dream) is the exhibition dedicated to the collaboration between Dalì and Hitchcock for the film by the British director "Spellbound".
You can visit the exhibition by Beniamino Levi dedicated to Salvador Dalì and Alfred Hitchcock in the Basilica of Santa Maria Maggiore in Pietrasanta until 30 September 2022.
The project dedicated to Dalì presents the scenography created by the Master of Surrealism for the Master of the Thrill for the first time in Europe. The exhibition is an immersive project that combines cinema, art, and music.
Spellbound, Dalì and Hitchcock in Naples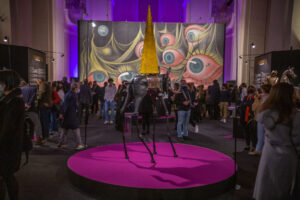 The collection of original works exhibited in Spellbound: scenografia di un Sogno consists of bronze sculptures, Daum glass works, graphics, illustrated books, Dalinian tarot cards, design objects, and surrealist furnishings.
These are symbolic works, which trace the surrealist iconography, some of them never exhibited before in Italy.
The best of this exhibition is the Spellbound monumental painting, a scenography created in 1945 by Salvador Dalì for the film by Alfred Hitchcock.
The basilica of Santa Maria Maggiore
The Spellbound exhibition is also an opportunity to visit this splendid location. Inside the seventeenth-century Basilica of Santa Maria Maggiore it is possible to admire artifacts from the Greco-Roman period, its basements, and the shelters of the Second World War. Along its naves, Dali's works acquire an added value.
The opening hours are from 10 am to 8 pm every day.
The cost of the entrance ticket is 14 euros. The reduced ticket costs 10 euros. Children under the age of 12, students under the age of 26 who present a university card, teachers, and people over the age of 65 are entitled to pay less.