Ravello is a village of the Amalfi coast known worldwide for the beauty of its surrounding landscape and its historic center and for the summer festival that every year hosts important personalities from the world of art and music.
The Ravello Festival, dedicated to Richard Wagner, takes place in the famous auditorium designed by Oscar Niemeyer, one of the most famous architectures of the Campania region.
The glory of Ravello is not something of our time: the beauty of the place has always been celebrated, as you can be read and see in many references in the art world. The most famous example is the mentions in Boccaccio's Decameron but not everyone knows about the importance of Ravello in the world of the cinema. Ravello is the set of The Treasure of Africa, a famous film with Humphrey Bogart, Peter Lorre, and Gina Lollobrigida. Another fact is that the Italian director Roberto Rossellini immortalized the city after World War II. Film lovers can look for these wonderful photographs. Back in the literary world, Gore Vidal lived in Ravello in the '70s.
How to go to Ravello and what you can visit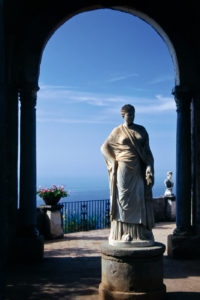 You can easily go there by bus or by car if you leave Naples, Salerno or one of the nearby villages of the Amalfi coast. Plus, if you want, you can book a driver by contacting BookingNaples. Our professional drivers can take you there in a comfortable car.
In Ravello, you can visit many churches. In addition to the Cathedral, the most beautiful and important are the one of Santa Maria Delle Grazie, characterized by a quadrangular plan; the church of Santa Maria a Granadillo, with a basilica plan type; the church of San Giovanni del Toro, with a three apse. These churches date back to the 9th century. The village is also known to house as many as 100 altars but only 40 of these are consecrated.
In this famous village, you can also see non-religious buildings such as the Palazzo Rogadeo, in Piazza Fontana, one of the oldest; the Caruso Hotel; the Palazzo Sasso and the Palazzo Confalone. Other palaces to visit are the Palazzo Tolla, where today is the Town Hall, the Seat of the Nobility of Ravello and Villa Episcopi.
Selected bed and breakfast in Ravello
B&B Il ducato di Ravello
Address: Piazza Duomo, 84010
Telephone: +39 089 857837
Web-site: www.ilducatodiravello.com
B&B Torre Dello Ziro
Address: Via delle Cartiere, 6
Telephone: +39 089 873503
Web-site: www.torredelloziro.com
B&B Palazzo della marra
Address: Via della Marra, 3
Telephone: +39 089 858302
Web-site: www.palazzodellamarra.it
B&B Il roseto
Address: Via SS. Trinità, 37
Telephone: +39 089 858 6492
Web-site: www.ilroseto.it
B&B I limoni
Address: Via Gradoni 14
Telephone: +39 089 858 275
Web-site: www.ravellobebilimoni.it
B&B Il rifugio del poeta
Address: Via Marino Frezza, 50
Telephone: +39 089 858272
Web-site: www.ilrifugiodelpoetaravello.com
B&B Ravello rooms
Address: Via Casa Pisani, 22
Telephone: +39 089 857314
Web-site: www.ravellorooms.com
B&B Mimì
Address: via San Francesco, 12
Telephone: +39 089 857134
Web-site: www.mimiravello.com
B&B Al borgo Torello
Address: Via Traglio, 24
Telephone: +39 089 858164
Web-site: www.alborgotorello.com
B&B Salvatore
Address: Via della Repubblica, 2
Telephone: +39 089 857227
Web-site: www.salvatoreravello.com
B&B Auditorium rooms
Address: Via Crocelle, 23
Telephone: +39 089 872765
Web-site: www.auditoriumrooms.com
B&B Monte Brusara
Address: Via Monte Brusara 32
Telephone: +39 089 857467
Web-site: www.montebrusara.com
5-STAR LUXURY HOTELS
Hotel Palumbo
Via San Giovanni Del Toro, 16 Phone number +39 089 857244 Web-site www.hotelpalumbo.it
With its long history, this hotel take place in an amazing building with ancient marble columns from Paestum dated back to 600 BC, polychrome ceramics with floral motives and geometrics designed dated back to the eighteen centuries and an interior design treated in detail. Hotel Palumbo is sourrunded by a gorgeous garden and it has a stunnig view of the Amalfi coast. You can also enjoy the dinner in the seventeenth century salon called "San Giovanni".
Belmond Hotel Caruso
Piazza San Giovanni del Toro 2 Phone number +39 089 858801 Web-site www.belmond.com/hotel-caruso-amalfi-coast
Perched on a sea-view cliff, this hotel has a Spa, a free shutle service to Positano and Amalfi and free boat excursion along the coast during the summer. Belmond Hotel Caruso's strength is the amazing pool where you can also taste the real napolitan pizza. All rooms have unique design overlooking sun-drenched seas or lush terraced gardens.
Hotel Villa Cimbrone
Via Santa Chiara, 26 Phone number +39 089 857459 Web-site www.villacimbrone.com
Villa Cimbrione boasts a long history, from the XI century several important family owned it till the Hotel was built. One of the amazing garden in Italy sourunds this hotel with a breathtaking view. This hotel offers many services to give you the best stay as an outdoor pool with hydromassage corner, a private helicopter pad and the Michelin-starred restaurant. Located in the centre of Ravello is perfect to visit the Amalfi coast.
4-Star Hotels
Hotel Graal
Via Della Repubblica 8 Phone number +39 089 857222 Web-site www.hotelgraal.eu
Situated in the inner city of Ravello, this hotel has a gorgeous view from all rooms that are provided with all comort thanks to the modern building where it take place. Hotel Graal has an outdoor simming pool and a bar. It also has two restaurant where is served tipical food of the region but also modern recipies to please every guest.
Hotel Villa Fraulo
Via San Giovanni Del Toro, 18 Phone number +39 089 858283   Web-site www.villafraulo.com
Located in a medieval villa totally renewed to give the best to all guest, this hotel offers a stunning view on the Amalfi coast from the charming and totally equipped rooms thanks to terraces and balcony. Hotel villa Fraulo has also a spa with turkish bath and sauna, an infinity pool, a restaurant and a poolside bar that will make your stay even more relaxing.
Hotel Bonadies
Piazza Fontana Moresca, 5 Phone number +39 089 857918   Web-site www.hotelbonadies.it
This hotel has been the first in Ravello and, in fact, it boasts more than 130 years of excellent hospitality as its famous guest can witness. All rooms have a stunning view on the seaside or on the hillside. Hotel Bonadies has a outdoor swimming pool with hydromassage area and a restaurant where you can taste the delicious Mediterranean cuisine.
Hotel Rufolo
Via S. Francesco 1 Phone number +39 089 857133    Web-site www.hotelrufolo.com
From more than a century, this hotel offers to his guest a perfect stay in Ravello thanks to the central position and a lovely building surrounded by the charming Villa Rufolo's gardens. In fact, Hotel Rufolo still has the traditional architecture, with arch and vaults, ceramics of the Amalfi coast and furnishing from the 800s. Though, its rooms are provided with all comforts and its restaurant is specialised in local and Mediterranean cuisine, made from ingredients grown in the garden
Best Western Hotel Marmorata
Via Bizantina, 3 Phone number +39 089 877777     Web-site www.marmorata.it
From one of the most famous hotel chains, Hotel Marmorata is a former paper mill on a private cliff directly on the sea on the Amalfi Coast. All rooms are in marine style overlooking the sea that you can enjoy thanks to a private access. There is also a siwimming pool, a hydromassage pool, a fitness centre and a spa. The restaurant, with its panoramic terrace, dishes out traditional food made of fresh products from the land.
Hotel Giordano
Via Trinità, 14 Phone number +39 089 857255    Web-site  www.giordanohotel.it
Really close to Duomo square, this elegant hotel has featuring period furniture original paintings and colourful majolica tiles from Vietri. With spacious rooms, hotel Giordano offers all comfort of a star hotel for the price of a 3 star one. It has also a swimming pool, a beauty centre and a cooking course where you can learn the traditional recipes of the Italian and napolitan cuisine.
Hotel Villa Maria
Via S. Chiara, 2 Phone number +39.089.857255    Web-site  www.villamaria.it
Located in the centre of Ravello, this hotel boasts a long history with many famous guests. With a stunning view on the sea, this hotel as bright rooms and a marvellous terrace where is served the typical food of the region cooked with organic products. Owned by the same family of hotel Giordano, hotel villa Maria's guest can enjoy both hotels services as a swimming pool, a beauty centre and a cooking course.